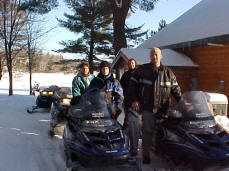 The Rhinelander area is truly a winter wonderland and Oaken Bucket is right in the middle of it all.
There are two access areas for snowmobiling. Just up the road from the cottage is one trail and the second runs on the lake right in front of the cottages - instant and easy access!
Ice fishing couldn't be any closer. Our year-round residents often fish the bay right in front of the cottage with great success. Once the lake is safely frozen (usually by Christmas), you can reach other hot spots by snowmobile or truck. Fishing regulations as well as information on ice shanties can be located at the Wisconsin Department of Natural Resources Web site or by visiting the headquarters at 107 Sutliff Avenue in Rhinelander.
Although we don't permit hunting on our land, Oneida County is in the heart of the northern forest, widely regarded as one of the state's top hunting regions. Literally thousands of acres of public hunting land - both state and national forest and paper company holdings - is located within an hour's drive of the cottages. These areas, in addition to being excellent spots to hunt white-tailed dear, offer excellent grouse, rabbit and other small game opportunities. For those hunters lucky enough to be drawn for a bear permit, Oaken Bucket would be an excellent choice for a base camp, within close proximity to prime public hunting lands. For complete information regarding the areas public hunting lands, contact the Wisconsin DNR's Rhinelander office at 715-365-8900.