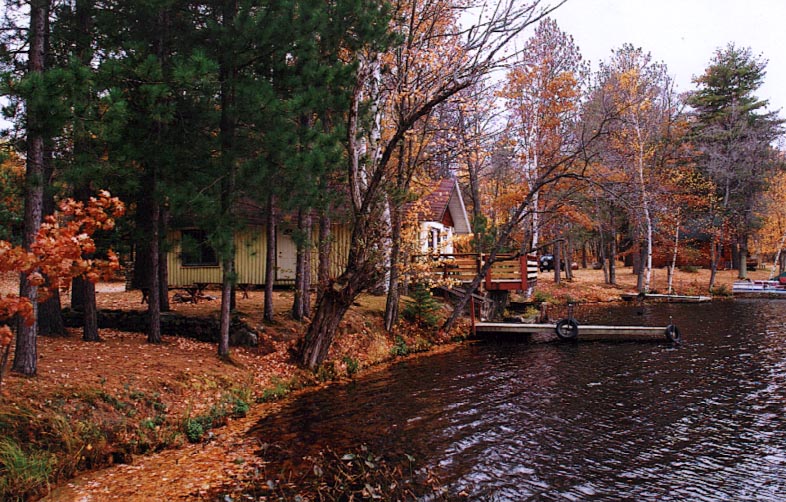 We provide you with deluxe accommodations year round!
Because of our uniquely small size, we're able to provide many amenities that will make your stay with us a pleasure. Oaken Bucket has a modern-yet-rustic atmosphere that will provide you with a perfect place to escape the challenges and rigors of everyday life.
All cottages have free access to the new boat ramp.
~ In the Cottages ~
All Kitchen Utensils

Full-size refrigerator, electric range/stove and microwave

Pillows

Sheets and blankets

Wood for the fireplace and firepit - Extra Wood $15

All cottages have TV with basic cable, VCR in the Fisherman's, VCR/DVD player in the Tamarack, and cable TV and DVD player in the Hilltop.
~ Outside ~
Screened-in fish cleaning facility with running water

Volleyball area with net (don't forget your volleyball)

Charcoal grill

Lawn chairs

Picnic table

Fabulous View

Free boat ramp for all guests
~ Don't Forget... ~
Appropriate clothing (it does cool off a bit in the evenings)

Bug spray (after all, mosquitoes are Wisconsin's state bird!)

Fillet knives (for you fisherman)

Fishing and/or hunting license for the fisherman/hunters (there are many places in Rhinelander to get these)

Camera and film

Video camera

Personal items
~ Miscellaneous Items ~
Boats, motors and other water toys are available for rent.

If you need towels, we will gladly provide them for $25 extra per week.
If you have questions about what we provide, please drop us an email.
(Picture by the Ganus Family - October 2008)